Our underground steel tanks provide superior structural strength and product compatibility. Designed to withstand the rigors of the underground environment, they are serviceable for storing of a wide range of petroleum products and other hazardous liquids.  Tank dimensions and thicknesses are calculated in strict compliance with Roark's Formulas for Stress and Strain as presented in UL-58.  In addition, customization to suit your requirements is always available. A variety of industry-proven corrosion protection systems can be selected to be installed using a variety of backfill materials. Capacities from 240-60,000 gallons, exterior full fillet lap joints, striker plates under every opening, seam inspection, and 5 psi factory air test. Underground double-wall tanks are shipped with a vacuum on the interstice, eliminating the need for on-site leak testing

The High-LINK® Integrated Systems couples Highland Tank's superior steel tank products with state-of-the-art electronic management devices and proprietary software to provide real-time data to decision-makers. With our High-LINK® applications you will have the power to optimize the usage and transfer of all your liquid operations. Learn more here.
HighGuard is an innovative technology from the nation's leading producer of underground steel storage tanks. HighGuard combines the structural strength of steel tank construction with the lasting protection of a polyurethane coating to produce a high-quality storage tank second to none. HighGuard is UL-1746 compliant and extremely resistant to surface damage due to impact or abrasion that may occur during transportation and installation. Supplied with standard 10-year warranty.
Click icons below for drawings, specs and literature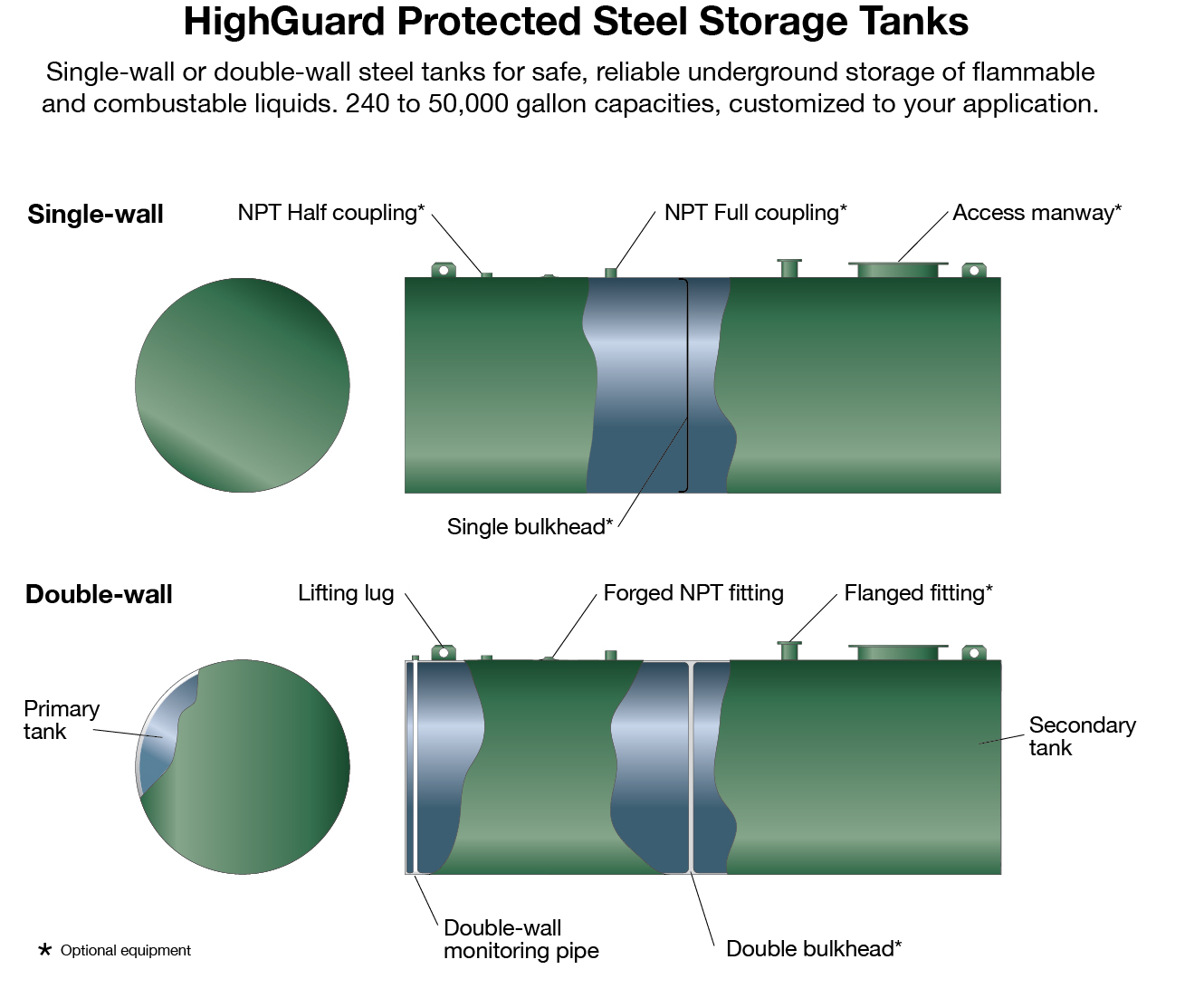 The Highland TITAN® is the most technologically advanced underground steel storage tank available anywhere in the industry. Our patented fusion technology bonds a high molecular weight (HMW) polymer outer tank to a steel inner tank at every tank opening. The process utilizes high heat and pressure to create a virtually leak and damage-proof outer thermoplastic tank. TITAN® is so tough, it surpasses the performance standards of UL-1746. TITAN® tanks feature secondary containment, damage resistance, reduced installation costs, and a 10-year warranty standard with a 30-year warranty available.
Click icons below for drawings, specs and literature
The HotShot design and construction is multi-layered for optimum performance and safety. The system includes a robust steel storage tank designed and constructed in accordance with UL-58 standards and certifications. An industrial high-temperature, two-part catalyzed interior coating is applied over a grit blast for maximum interior surface protection. Additionally, a high-temperature-resistive exterior coating, coupled with a pre-engineered cathodic protection system, creates a dependable dielectric barrier between the tank and the underground environment. The HotShot is designed specifically for the safe storage of heavy residual fuel oils (RFOs), such as No. 6 fuel oil.
act-100-u® + sti-p3® tanks
ACT-100-U® polyurethane coating technology meets or surpasses all current UL standards. The ACT-100-U® is as rugged as the STI-P3® tank but does not require cathodic protection with anodes or monitoring. Performance tests prove that the 70 mil thick ACT-100-U® coating is far superior to Fiberglass Reinforced Polyester (FRP) coatings and much more resistant to incidental damage.
The "P3" combines the strength of steel with a three-way protection system: 100% solids polyurethane dielectric coating, electrical isolation and factory-installed cathodic protection system using sacrificial anodes.
Please contact us with your interest in STI underground tank technologies